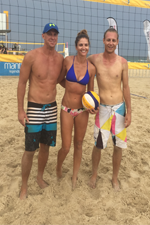 Due to the GC2018 Commonwealth Games taking place on the Gold Coast soon we are moving all of our activities to our Pizzey Park centre. With all of the craziness that will be taking place with road closures and changes around the city, we have made it easier for all! Check out our location page for more info.
This will take place immediately and will continue till after the GC2018 Comm Games. If you have any questions please let us know!  
Come on down, get fit and have fun while learning to play beach volleyball. Beach volleyball is a fast, fun and exciting sport.
6 week beginner's course.
Learn the rules of the game.
Learn to serve, pass, set and spike with experienced instructors.
Small groups, ninety minute session per week.
Once you've finished the course, you will be ready to join any of our competitions either at the beach or in our centre! The Social Leagues offers friendly and inclusive competitions, that you can show off your new skills. Bring your beach attire, water, sunscreen and a hat.
9.00am-10.15am SATURDAY MORNINGS*
Cost is $35.00 per week/session or $175.00 if paid in advance, which gives you 1 week free! 
Instructors: 
Brett Richardson – An Australian National Beach Volleyball Champion 
+ Guest coaches - all have played at least a State Tour level
To book contact: 
Peter on 0412 736 684 or peter@beachvolleyballgoldcoast.com
Image: